Makerere
University has on Wednesday announced that the suspension of the chairperson of
Makerere University Academic Staff Association (MUASA) Dr. Deus Kamunyu has
been lifted.
Dr
Kamunyu, a lecturer in the department of Forestry, Biodiversity and Tourism in
the college of Agriculture and Environmental Sciences was suspended from the
university and barred access to his office by Vice Chancellor Prof Barnabas Nawangwe
due to misconduct.
In
a statement, the University's communications and international relations boss, Dr
Muhammad Kiggundu said the decision was reached after the institution
dialoguing with MUASA council, parliament and government.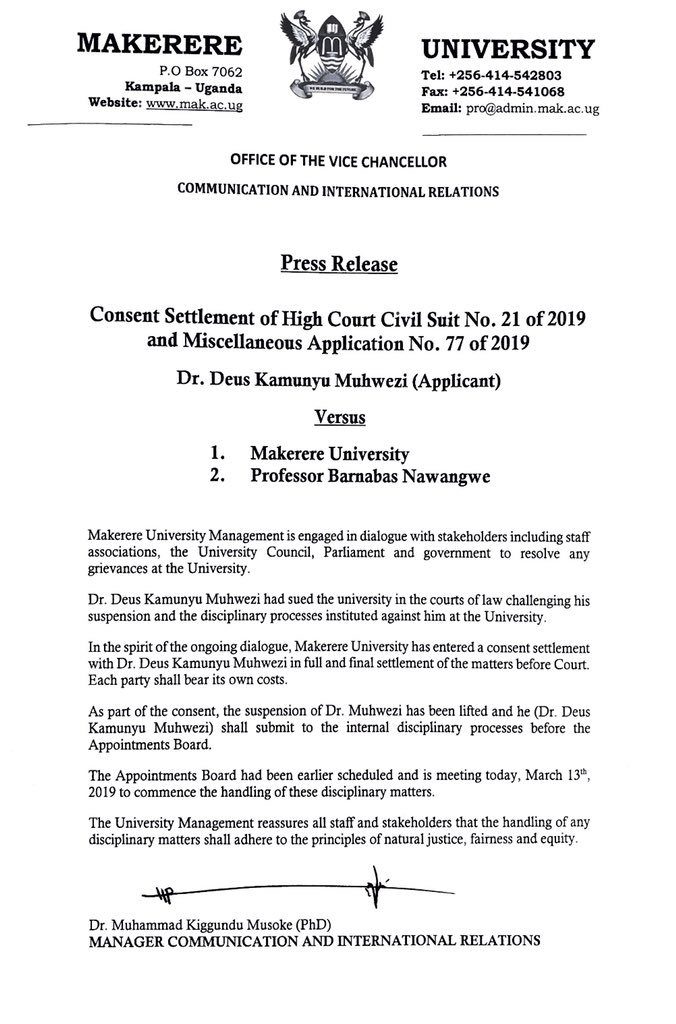 Nawangwe
accused Dr Kamunyu of involving himself in the acts that taint the university
image, intimidation of university officials and use of abusive language among
others.

 However, Dr Kamunyu refuted all the
accusations and decided to sue Makerere University and Prof Barnabas Nawangwe
for violating his rights as a Ugandan.
When
the two parties met before Justice Lydia Mugambe of the High Court, a consent
judgment was presented to her in which the suspension of the Dr Kamunyu was
lifted on Wednesday 13th.